When design machine parts / prototypes by 2D engineering method, we can adopt simplified drawing method:
1.When the object (mechanical part) has several identical structures (teeth, slots, etc.) and distributes according to certain rules, only a few complete structures need to be drawn. The rest are connected by fine lines, and the total number of structures is indicated.
Mechanical part Examples of Simplified Drawing of Mechanical Drawings :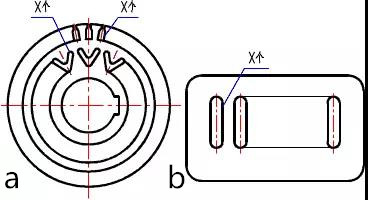 Same Structure and Simplified Drawing
2.A number of holes with the same diameter and regular distribution (round holes, screw holes, sinks, etc.) can be drawn only one or several, the rest can only be represented by the center line, and the total number of holes should be indicated when the size of holes is marked in the figure.