KYLT CNC Machining Services and Rapid Manufacturing Company From China
With over 10 years of experience working with magnesium alloy CNC machining, KYLT is also experienced in Mold, Jig, Checking tools, Fixtures design and making. Following end users' drawings, KYLT provide Aluminum, Stainless steel, Steel, Magnesium, Copper, and Plastic materials CNC turning and milling parts with high precision, good surface and thin wall.
Min. Volume and Fast Prototype CNC Machining Service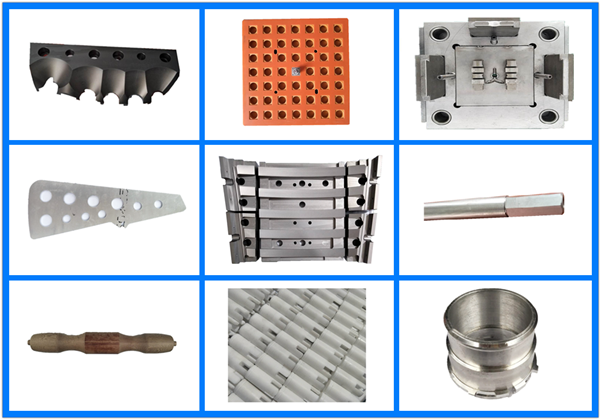 From prototyping to mass production runs. Our engineers' analysis and programmed your part from computer to  CNC manufacturing within 1 hour.
KYLT CNC Machining Services Advantages:
Over 10 years of experience on Aluminum/Magnesium CNC machinery parts of deference and commercial products and export to the United States, Canada, Germany, Japan, Spain and the Netherlands, etc. Especially Magnesium alloy CNC Machining products with thin walls most for the army industry.
Experienced engineers with good skills in programming, molds/fixtures/tooling/work-pieces design and making.
Proe, UG, Solidworks, Mastercam and CAD etc Software be used.
OEM and ODM services to our customers.
Tight schedule quick prototype manufacturing to guarantee delivery on time. (24 hours do not stop working is required.)
MOQ can be 1 to 2000 pieces according to the customer's demand.
Safe packing to guarantee work-piece not be damaged.

We will choose the best way to ship cargo, help end users save costs & to receive products in time. The vessel, Air, and Express (TNT, FedEx, DHL etc) shipping methods can be chosen as per clients' demands.
CNC Machining Services Processes:
1. CNC Machining Capabilities:
3 and 4-axis Machine Centers provide Precision CNC Machining services for all industries.  Machining Materials are not limited from Ferrous or Non-ferrous Metal to Plastic. No Min. Quantity limit,1pcs prototype sample to 20,000pcs full production is acceptable.
2. CNC Milling service: 
CNC milling is a subtractive manufacturing process that rapidly removes material from metal or plastic blocks to produce precision parts with tight tolerances.
More about KYLT CNC milling capabilities
3. CNC TURNING SERVICE:
CNC turning produces parts with cylindrical features by removing material from metal or plastic rods using cutters, and center drills.
More about KYLT CNC turning capabilities
4. 3-axis & 4-axis CNC machining:
Different designed parts deal with different programs, and 3-axis & 4-axis CNC routers & Milling machines are used to meet different demands.
CNC Machining Services Offered:
3 axis Machining
4 axis Machining
Aluminum Machining
Magnesium Machining
Copper/ Brass Machining
Carbon Steel Machining
Stainless Steel Machining
CNC Lathe
CNC Turning
Small Plate Work
Precision Machining
Custom CNC Work
Small Batch Production
Prototype CNC Work
Click GET A QUOTE to get a free quotation for your CNC machining work-piece price.
CNC Machining Working Materials:
1. CNC MACHINING METALS:
Aluminum: High machinability and ductility, good strength-to-weight ratio.
Brass: Low friction, excellent electrical conductivity, golden appearance.
Steel:

Mild steel: High machinability and weld-ability, high stiffness.
Alloy steel: High strength and toughness, fatigue resistant.
Tool steel: High hardness and stiffness, abrasion resistant.

Stainless Steel: High tensile strength, corrosion and temperature resistance.
Click GET A QUOTE to get free quotation for your Metal CNC machining part price.
2. CNC MACHINING PLASTIC:
Plastic

ABS: Common thermoplastic, impact resistant, easy to machine.
Poly-carbonate: High toughness, excellent impact strength, transparency.
Nylon: Excellent mechanical properties, thermal, chemical and abrasion resistant.
POM (Delrin): High stiffness, high accuracy, low friction, easy to machine.
PTFE (Teflon): Low friction, chemical and thermal resistant.
Polyethylene: Excellent strength-to-weight ratio, impact and weather resistant.
PEEK: High-performance thermoplastic, very high strength, thermal and chemical resistant.
PVC: Excellent corrosion resistance, insulation and certain mechanical strength.

Custom Materials
Click GET A QUOTE to get a free quotation for your Plastic CNC machining part price.
CNC Machined Parts Finishes Available:
As Machined – This is a quick affordable choice often used for nonshow applications such as mounting brackets.  However, cutter marks from the CNC Machining process will be present.
Sand Paper #320 – A light sandpaper will remove the cutter marks left over from the CNC machining process, but will leave behind a uniform grit (scratch pattern) from the sandpaper.
Sand Paper #400  – A smoother alternative to 320 Paper
Shot Blasting – This will remove light cutter marks and light sandpaper scratches, leaving behind a smooth uniform sheen.
Shacking polish – Stone, Stainless Steel balls give parts a smooth surface for painting.
Anodizing – Corrosion Prevention and aesthetics.
Custom Coatings & Finishes – Painting and Powder coating are allowed.
---
More information about KYLT CNC Machined parts- CNC milling, CNC turning, Rapid Prototyping, Please Contact US: Wechat: (86) 15195010186 Email: cnkylt@aliyun.com
---
Learn More about KYLT CNC machined parts. Or got a quotation soon: cnkylt@aliyun.com
KYLT CNC Machining Services:
Home>CNC Machining Services>CNC Milling Services
Home>CNC Machining Services>CNC Turning Services
Home>CNC Machining Services>Rapid Prototyping Services
Home>CNC Machining Services>Injection Molding Services
KYLT CNC Precision Machined Parts:
Home>Precision CNC Machined Parts
Home>Precision CNC Machined Parts>CNC Precise Turned Parts
Home>Precision CNC Machined Parts>CNC Precise Milled Parts
Home>Precision CNC Machined Parts>Aluminum Machining
Home>Precision CNC Machined Parts>Magnesium Machining
Home>Precision CNC Machined Parts>Copper & Brass Machining
Home>Precision CNC Machined Parts>Steel Machining
Home>Precision CNC Machined Parts>Stainless Steel Machining
Home>Precision CNC Machined Parts>Plastic Machining
More information about Machining Technology: