Magnesium Machining, the main working method is to mill Magnesium material to PROTOTYPE, then do Drilling, Tapping work.
Magnesium is the lightest of all metal elements and is primarily used in structural alloys due to its lightweight, strength, and resistance to corrosion.
KYLT have over 10years experiences working with Magnesium Milling Machining Prototypes making. We can product big and thin wall Magnesium part.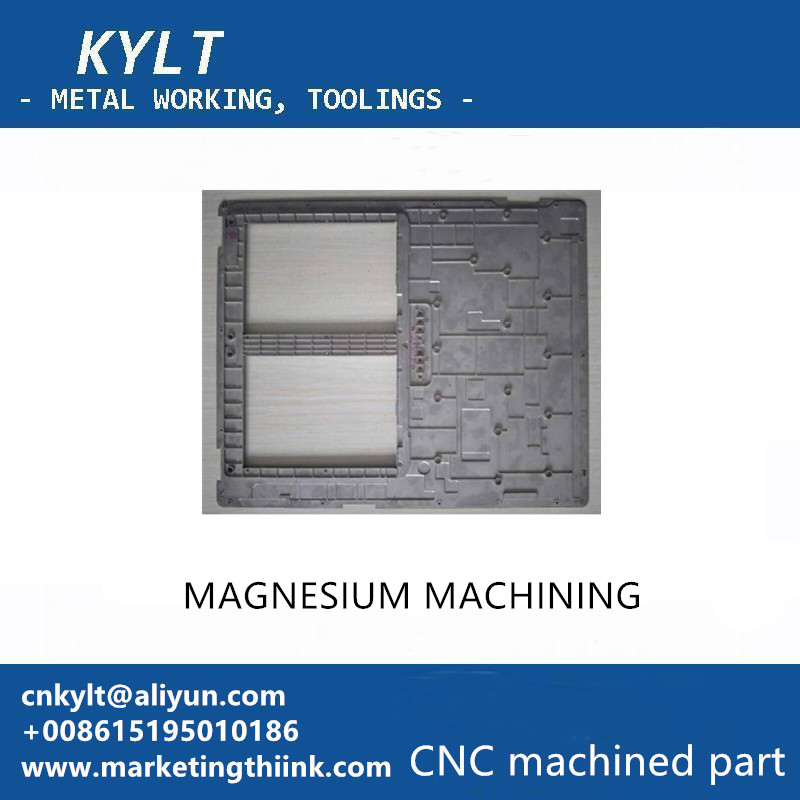 Magnesium has very good machining abilities like sawing, punching, drilling, milling, turning compared to other metals. The specific cutting power is low and the surface is excellent and the chips are short.  
Magnesium is the fastest machining metal and it has a high thermal conductivity.
Magnesium Advantages :
Long tool life, the tool stays sharp for long time
Low power consumption, about 55% lower than for aluminium alloys
Reduction of machining time because of the high speeds
Short chips an excellent surface
Magnesium Machining Features:
Magnesium machining is normally done without any coolant. If when necessary to use coolant, a light mineral oil will suffice. Never use water based coolant because of the risk of any reaction with the chips during storage.

High-speed tools or carbide tipped tools are preferred for the machining of magnesium. It is important to keep the cutting tool sharp to avoid to much heat. The experience with diamond tools are excellent but the costs are relatively high. It is necessary to store machined products under dry conditions and when there is a chance of condensation, extra protection is needed. Machines should be kept clean and the turnings should be stored in steel bins.

Products of magnesium will not ignite easily. The magnesium must be heated to the melting point and during normal machining it's virtually impossible. The chips can ignite but precautional methods should avoid this risk.
Magnesium dust how little it may seem has a high degree of flammability and these precautions are necessary to minimize these risk:
Dry machining or use light mineral based oil
Keep cutting tools sharp
Dispatch the chips frequently and store these in steel closed containers
Make sure there is an suitable extinguisher available
Use compressed air with high speed automatic machining when shavings are produced
Should a fire occur, dry turnings will burn slow and evenly. Never use water to extinguish magnesium because the burning magnesium will decompose water to form hydrogen which is easily ignited.
The potassium chloride fire powder extinguisher is the best extinguisher, other common extinguishers such as cast iron turnings and dry sand.
KYLT Precision CNC machining services (milling & turning service), Fast prototyping, Fixture/Jig/Tooling making, Aluminum die casting & plastic injection parts. Email:cnkylt@aliyun.com +008615195010186
KYLT CNC Machining Services:
Home>CNC Machining Services>CNC Milling Services
Home>CNC Machining Services>CNC Turning Services
Home>CNC Machining Services>Rapid Prototyping Services
Home>CNC Machining Services>Injection Molding Services
KYLT CNC Precision Machined Parts:
Home>Precision CNC Machined Parts
Home>Precision CNC Machined Parts>CNC Precise Turned Parts
Home>Precision CNC Machined Parts>CNC Precise Milled Parts
Home>Precision CNC Machined Parts>Aluminum Machining
Home>Precision CNC Machined Parts>Magnesium Machining
Home>Precision CNC Machined Parts>Copper & Brass Machining
Home>Precision CNC Machined Parts>Steel Machining
Home>Precision CNC Machined Parts>Stainless Steel Machining
Home>Precision CNC Machined Parts>Plastic Machining
More information about Machining Technology: