CNC Machining is a manufacturing process. Through software programmed in computer to control CNC machine tools running. Lathes, Mills, Routers and Grinders etc wide range machinery can use this process.
How CNC machine works?
CNC Machining stands for Computer Numerical Control. With CNC machining, three-dimensional cutting tasks can be accomplished in a single set of prompts.
The CNC process runs in contrast to — and thereby supersedes — the limitations of manual control, where live operators are needed to prompt and guide the commands of machining tools via levers, buttons and wheels. To the onlooker, a CNC system might resemble a regular set of computer components, but the software programs and consoles employed in CNC machining distinguish it from all other forms of computation.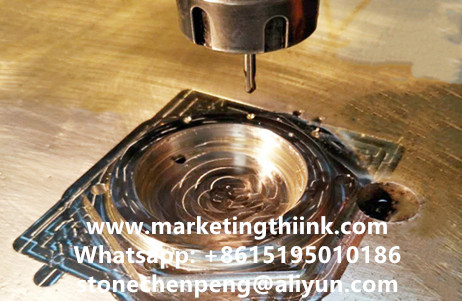 CNC Machines Types:
The machine With a numerical control also can be classified as CNC machines. The most frequently used machines in CNC systems include the following:
1.CNC Mills Machine
CNC Milling operations involve using multi-point rotary cutters to remove material from a work piece.
There are two main types of milling operations: face milling and peripheral milling. Face milling cuts flat surfaces into the workpiece and flat-bottomed cavities. The feed can be either horizontal or vertical. Peripheral milling cuts deep slots, threads, and gear teeth.
The workpiece can be fed into the cutting tool in either of two ways. Conventional milling involves feeding the workpiece against the cutter rotation. This is the recommended method for manual milling machines. Climb milling, on the other hand, feeds the workpiece in the same direction as the cutter rotation. This is the preferred method for CNC milling.
Milling is best applied as a secondary process to an already machined workpiece. It helps to define features and serves as a "finishing coat". Use milling as a secondary process to add features such as holes, slots, pockets, and contours.
2.CNC Lathes – CNC machining turning method
CNC turning produces parts with cylindrical features by removing material from metal or plastic rods using cutters, center drills or live tooling.
3.Plasma Cutters
Plasma Cutters normally used to cut the thick steel sheet or blocks. In a plasma cutter, material is cut with a plasma torch. The process is foremost applied to metal materials but can also be employed on other surfaces. In order to produce the speed and heat necessary to cut metal, plasma is generated through a combination of compressed-air gas and electrical arcs.
4.Electric Discharge Machines – EDM
Widely used in all kinds of mold making process.Electric-discharge machining (EDM) — alternately referred to as die sinking and spark machining — is a process that molds work pieces into particular shapes with electrical sparks. With EDM, current discharges occur between two electrodes, and this removes sections of a given work piece.
When the space between the electrodes becomes smaller, the electric field becomes more intense and thus stronger than the dielectric. This makes it possible for a current to pass between the two electrodes. Consequently, portions of a work piece are removed by each electrode. Subtypes of EDM include:
Wire EDM, whereby spark erosion is used to remove portions from an electronically conductive material.
Sinker EDM, where an electrode and work piece are soaked in dielectric fluid for the purpose of piece formation.
In a process known as flushing, debris from each finished work piece is carried away by a liquid dielectric, which appears once the current between the two electrodes has stopped and is meant to eliminate any further electric charges.
5.Water Jet Cutters
Water jets are tools that cut hard materials, such as granite and metal, with high-pressure applications of water. With CNC, the shape of cut parts can be programmed firstly. In some cases, the water is mixed with sand or some other strong substance. Factory machine parts are often shaped through this process.
6.Other CNC machining machinery
What need to Learn about CNC Machining?
Running a program to active the CNC system, the desired cuts are programmed into the software and dictated to corresponding tools and machinery.Moving like a robot, CNC machine carry out the dimensional tasks as specified.
In CNC programming, the code generator within the numerical system will often assume mechanisms are flawless, despite the possibility of errors, which is greater whenever a CNC machine is directed to cut in more than one direction simultaneously. The placement of a tool in a numerical control system is outlined by a series of inputs known as the part program.
With a numerical control machine, programs are inputted via punch cards. By contrast, the programs for CNC machines are fed to computers though small keyboards. CNC programming is retained in a computer's memory. The code itself is written and edited by programmers. Therefore, CNC systems offer far more expansive computational capacity. Best of all, CNC systems are by no means static, since newer prompts can be added to pre-existing programs through revised code.
Something about CNC Machining Programming
CNC machines are operated via numerical control, software program is designated to control an object. The language behind CNC machining is alternately referred to as G-code, and it's written to control the various behaviors of a corresponding machine, such as the speed, feed rate and coordination.
CNC machining makes it possible to pre-program the speed and position of machine tool functions and run them via software in repetitive, predictable cycles, all with little involvement from human operators. Due to these capabilities, the process has been adopted across all corners of the manufacturing sector and is especially vital in the areas of metal and plastic production.
2D or 3D CAD drawing is conceived, which is then translated to computer code for the CNC system to execute. After the program is inputted, the operator gives it a trial run to ensure no mistakes are present in the coding.
MORE INFORMATION ABOUT KYLT CNC MACHINING SERVICE– CNC MILLING, CNC TURNING, RAPID PROTOTYPING, PLEASE CONTACT US: WECHAT: (86) 15195010186 EMAIL: STONECHENPENG@ALIYUN.COM
LEARN MORE ABOUT KYLT CNC MACHINED PARTS. OR GOT QUOTATION SOON: STONECHENPENG@ALIYUN.COM
KYLT CNC Machining Services:
Home>CNC Machining Services>CNC Milling Services
Home>CNC Machining Services>CNC Turning Services
Home>CNC Machining Services>Rapid Prototyping Services
Home>CNC Machining Services>Injection Molding Services
KYLT CNC Precision Machined Parts:
Home>Precision CNC Machined Parts
Home>Precision CNC Machined Parts>CNC Precise Turned Parts
Home>Precision CNC Machined Parts>CNC Precise Milled Parts
Home>Precision CNC Machined Parts>Aluminum Machining
Home>Precision CNC Machined Parts>Magnesium Machining
Home>Precision CNC Machined Parts>Copper & Brass Machining
Home>Precision CNC Machined Parts>Steel Machining
Home>Precision CNC Machined Parts>Stainless Steel Machining
Home>Precision CNC Machined Parts>Plastic Machining
More information about Machining Technology: