Working with metal part by turning or milling, the machined metal chip always entangling metal parts.
Normally, we can met following metal chip problems:

1.Metal Chip winding, workpiece can not be loaded and unloaded
2.Metal Chips must be removed after the machining finished.

3.Metal Chip winding and outlet blockage
4.Metal Chip winding, tools life short and damaged easily.
Do you have any chip trouble? If so, it means that you are not familiar with the workpiece machining. If this continues, someone else has processed 100 pieces, and you may only have processed 90!
What are the shapes of metal chips?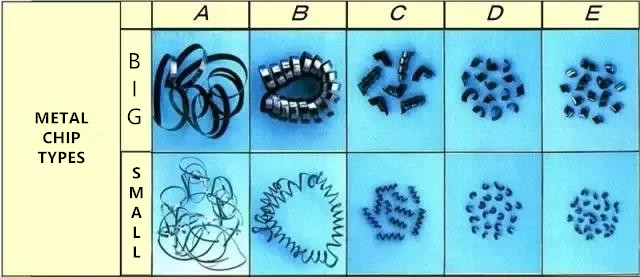 What can we read from cut metal chips?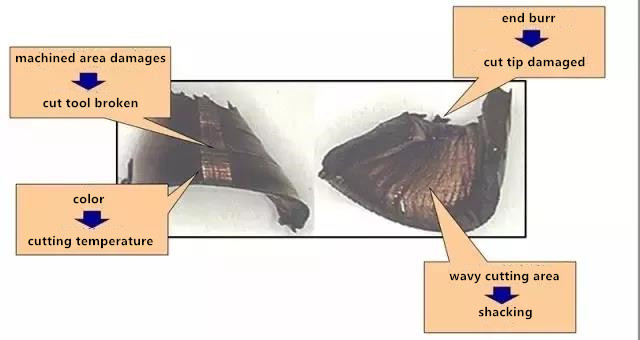 if the machined metal chip area broken, damaged. That means the cut tool was broken.
if the metal chip end has burr, it means the cutter tip damaged.
the metal chip color shows the cutting temperature in machining process.
if the metal chip has wavy cutting area, it means the cut tool was shacking in machining.
| | | | |
| --- | --- | --- | --- |
| Cutting temp.(℃) | metal chip colors | Cutting Temp.(℃) | metal chip colors |
| 200 | Canary yellow | 300 | Cyan |
| 229 | Yellowish brown | 320 | Pale blue |
| 240 | brown | 350 | Blue-grey |
Cut Metal Chip Principle and Direction
Principle
Method
Note
metal chip
become thick
increase feeding
roughness become bad
metal chip
become thick
cutter tip radius
become small
roughness become bad
damaged easily
metal chip
become thick
Increasing Principal
Deviation Angle
cutter tip strength
become low
Metal Crimp
Reduced radius
use suitable metal
chip breaker
cutting resistance is higher,
cutter shacking
What are the methods of Metal chip breaking?
Increasing chip thickness after feeding is beneficial to chip breaking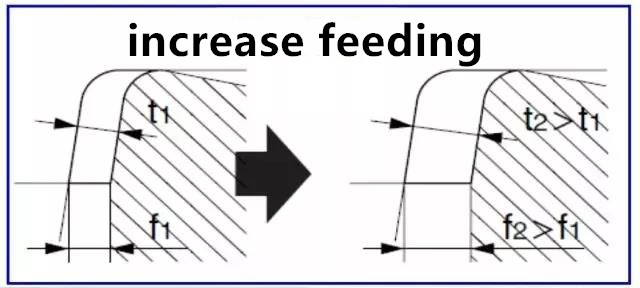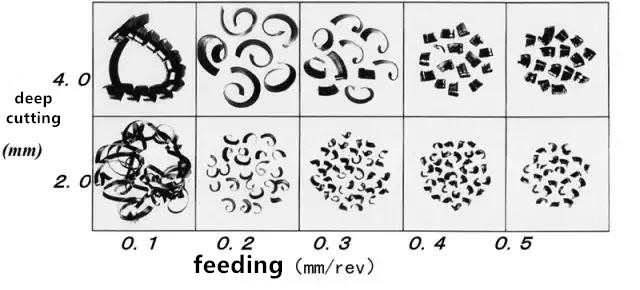 2.The radius of cutter tip roundness decreases and chip thickness increases.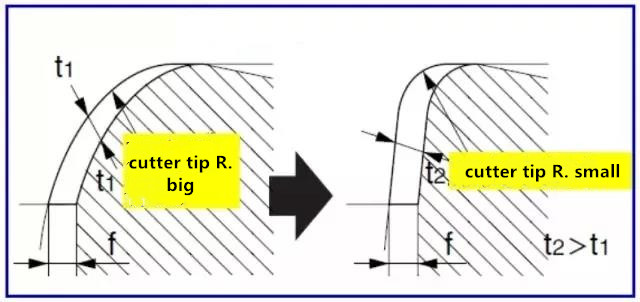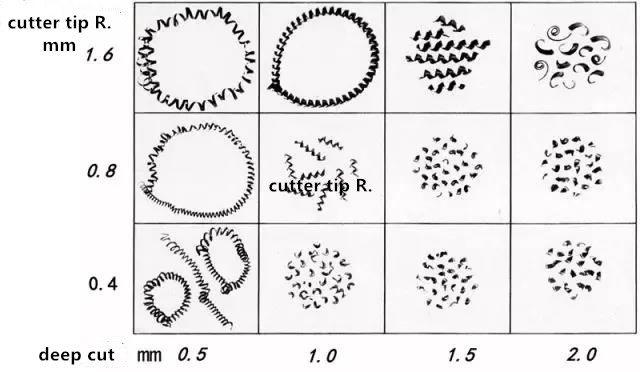 3.Reduce the front corner
Chip compression ratio = hc/h
The bigger the compression ratio is, the easier chip breaking will occur. At the same time, the cutting resistance will also increase.
Compression ratio is related to linear velocity Vc. When Vc decreases, compression ratio increases, so reducing linear velocity is also beneficial to chip breaking.
The decrease of the front angle, the large chip deformation and the increase of the compression ratio are beneficial to chip breaking.
Use sharp edge cutting tool
As photo show, under the same feed conditions, the blade has sharp edges, which is conducive to metal chip breaking.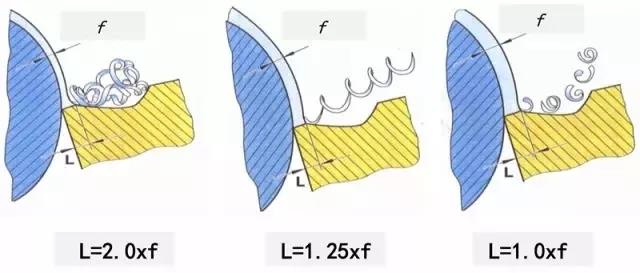 Increasing the main deflection angle and thicker chips are beneficial to chip breaking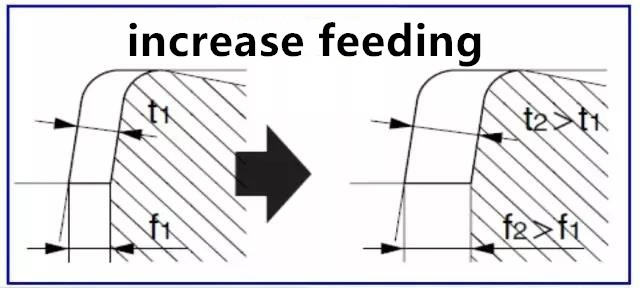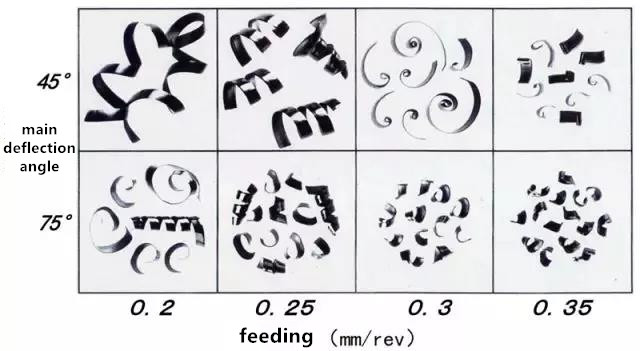 Protruding chip breaking groove to promote chip breaking
Scraping the surface of the chip from the protuberance of the chip breaking groove produces a dent—-Significant increase in chip thickness—Promoting chip breaking is highly damaging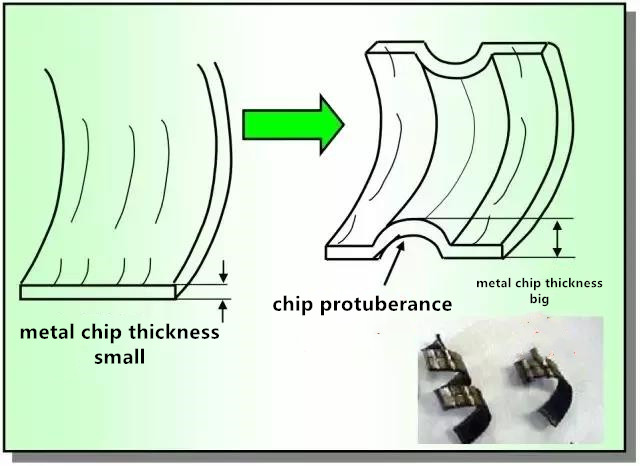 The contact area with chips decreases and the chips discharge smoothly due to smooth contact with protrusions—Less damage to cutting tools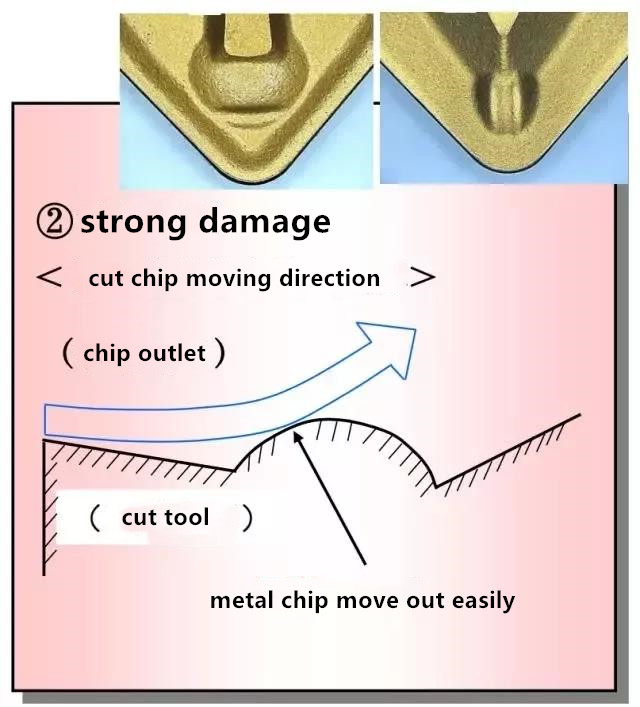 Reduction of Chip Curling Radius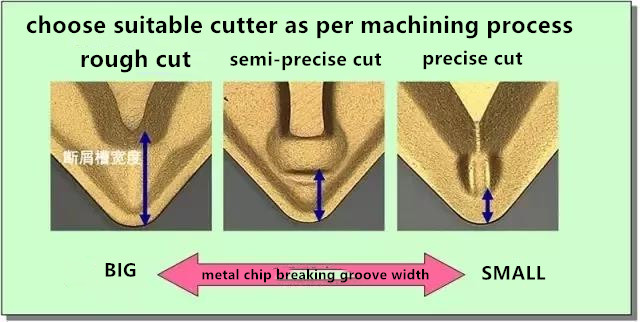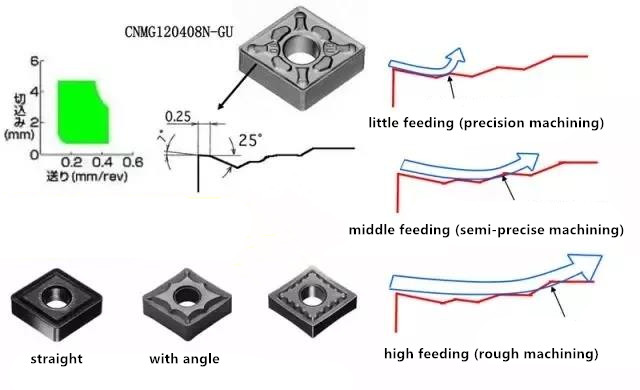 More information about NC machining, CNC machining services and metal machined part, contact with us: cnkylt@aliyun.com +008615195010186
KYLT CNC Machining Services:
Home>CNC Machining Services>CNC Milling Services
Home>CNC Machining Services>CNC Turning Services
Home>CNC Machining Services>Rapid Prototyping Services
Home>CNC Machining Services>Injection Molding Services
KYLT CNC Precision Machined Parts:
Home>Precision CNC Machined Parts
Home>Precision CNC Machined Parts>CNC Precise Turned Parts
Home>Precision CNC Machined Parts>CNC Precise Milled Parts
Home>Precision CNC Machined Parts>Aluminum Machining
Home>Precision CNC Machined Parts>Magnesium Machining
Home>Precision CNC Machined Parts>Copper & Brass Machining
Home>Precision CNC Machined Parts>Steel Machining
Home>Precision CNC Machined Parts>Stainless Steel Machining
Home>Precision CNC Machined Parts>Plastic Machining
More information about Machining Technology: